Product Detail
Product Tags
Dibutyl phthalate is a plasticizer with strong solubility for many plastics. Used in PVC processing, can give the product good softness. It can also be used in nitrocellulose coatings. It has excellent solubility, dispersibility, adhesion and water resistance. It can also increase the flexibility, flex resistance, stability, and plasticizer efficiency of the paint film. It has good compatibility and is a widely used plasticizer on the market. It is suitable for various rubbers, cellulose butyl acetate, ethyl cellulose polyacetate, vinyl ester and other synthetic resins as plasticizers. It can also be used to make paint, stationery, artificial leather, printing ink, safety glass, cellophane, fuel, insecticide, fragrance solvent, fabric lubricant and rubber softener, etc.
Performance indicators
Appearance
lucency
solid content
99
PH
4.5-5.5
Applications
Used as an additive for waterborne coatings to speed up film formation
Performance
Film forming additives, plasticizer, non-toxic and tasteless
1. Description:
Generally, emulsion will have a film forming temperature,When the ambient temperature is lower than the emulsion film forming temperature, the emulsion film forming agent can improve the emulsion film forming machine and help film forming.After the film forming, the film forming auxiliaries volatilize, which will not affect the characteristics of the filmThe product has high boiling point, superior environmental performance, good miscibility, low volatility, and is easy to be absorbed by latex particles.Can form excellent continuous film.It is a film forming material with excellent performance in latex paint, which can greatly improve the film forming performance of latex paint. It is not only effective for pure acrylic, styrene-acrylic, acrylic acetate emulsion, but also effective for vinyl acetate emulsion.In addition to significantly reducing the lowest film forming temperature of the latex paint, it can also improve the cohesion, weather resistance, scrubbing resistance and color development of the latex paint, so that the film has a good storage stability.
2. Application fields:
A. Building coatings, high-grade automotive coatings and repair coatings, rolling coatings
B. Environment-friendly carrier solvent for textile printing and dyeing
C, for ink, paint removal agent, adhesive, cleaning agent and other industries
3. Storage and packaging:
A. All emulsions/additives are water-based and there is no risk of explosion when transported.
B. 200 kg/iron/plastic drum.1000 kg/pallet.
C. Flexible packaging suitable for 20 ft container is optional.
D. This product should be stored in a cool and dry environment, avoid moisture and rain.The storage temperature is 5 ~ 40℃, and the storage period is about 24 months.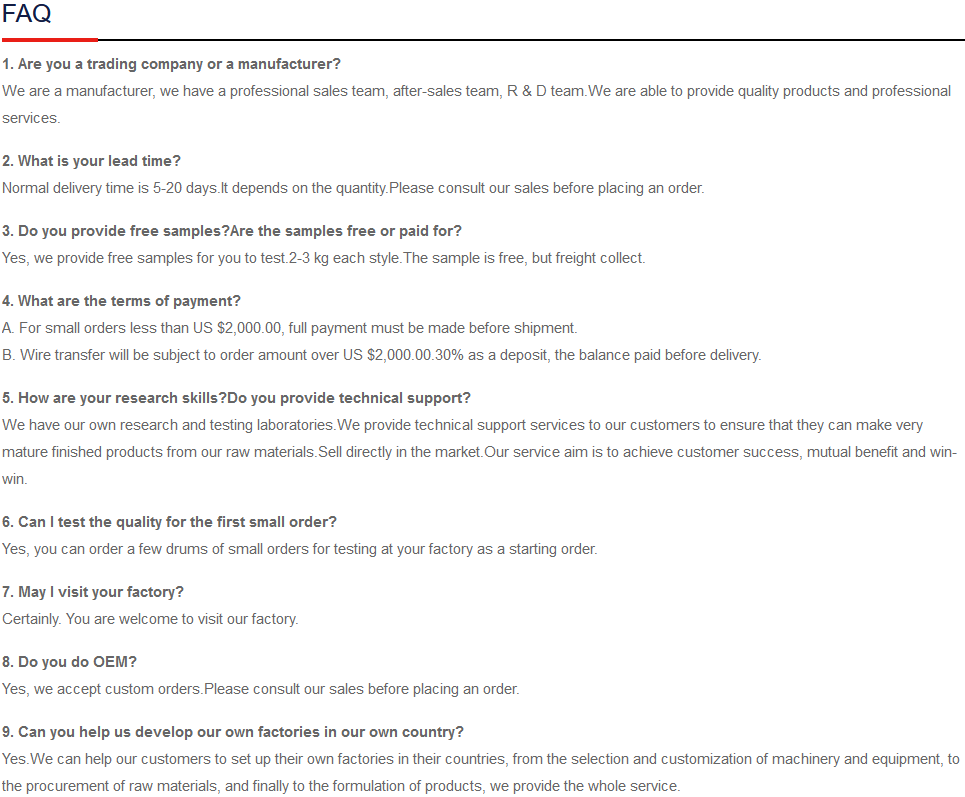 ---
---
Previous:
Water-based wetting agent HD1919
---
Write your message here and send it to us